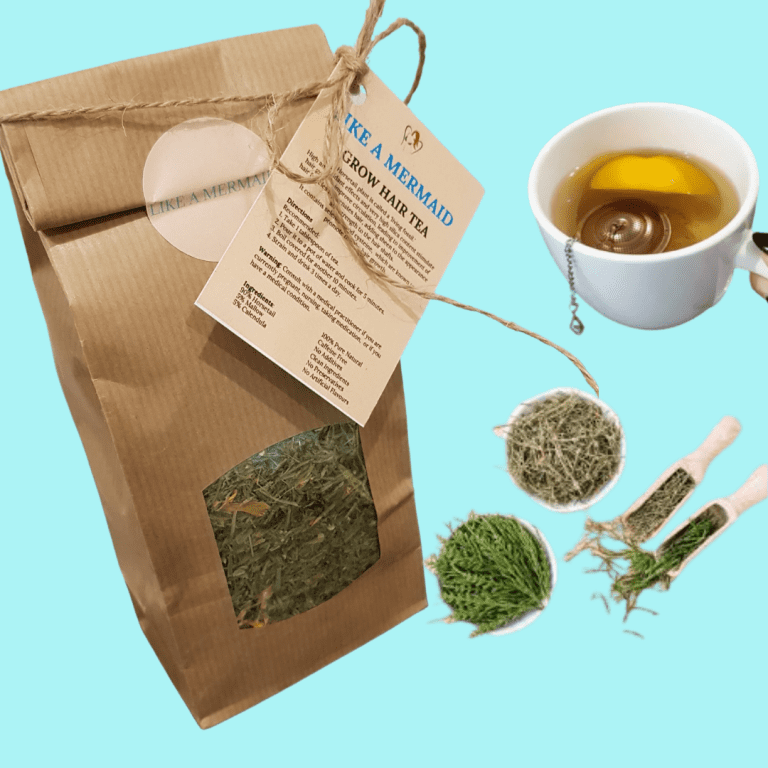 Why our grow hair tea has the best ingredients promoting hair growth and helping your overall wellbeing⠀⠀
How Grow Hair Tea will help our bodies produce collagen naturally according to studies
Grow hair tea is made of horsetail, which is a natural source of silica and very good for strengthening hair, bone and brittle nails, and also high in antioxidants, helping to prevent abnormal cell growth (Cetojević-Simin et al, 2010). Silica helps to bind protein molecules together in the blood vessels and connective tissues, and is the material of which collagen is made. Collagen being the connective "glue" that holds our skin and muscle tissues together. Horsetail is a biosilicifier (Law and Exley, 2011) and also contains potassium, manganese, and magnesium, and many trace minerals.
Good health and hair is a reflection of what we take in to our mind and body.
After years of research, trying and testing all types of teas, we have found the best all natural teas you can sip on, to help promote hair growth, reduce stress and hair loss. It is ideal to sip on this tea, while you leave the oil on your hair for 30-60 minutes. You can also use this tea to rinse your hair. Rinsing hair with tea is a popular remedy used on hair for centuries, with beauty professionals in many different backgrounds including this in their hair care routines, as the benefits of rinsing with tea are endless, from fighting dandruff, stimulating hair growth, treating hair loss, reducing breakage, acting as a brightening agent for light-coloured hair and more. Teas have antibacterial, antiseptic and antiviral properties, which can help with an itchy scalp.
The benefits of Horsetail tea is simply unbelievable. Horsetail is a herb that contain the highest amount of silicon. According to research, silicon is the second most abundant element of the Earth's crust after oxygen. Research shows that silica in Horsetail help promote hair growth and strength and is also beneficial for hair loss, dandruff, and split ends.
Horsetail is an ancient herb that has been used for thousands of years to treat and improve hair health. Horsetail plant is called a "living fossil." High antioxidant effects and very high silica content stimulate hair growth, improve circulation, leading to improvement of hair follicles rejuvenates hair, adding sheen to the appearance and strength to the hair shafts. Contains selenium and cysteine, which are known to promote healthy hair growth.
Horsetail Tea
More information about Horsetail Tea, can be found at our blog article on Horsetail Tea - World's best tea for hair growth